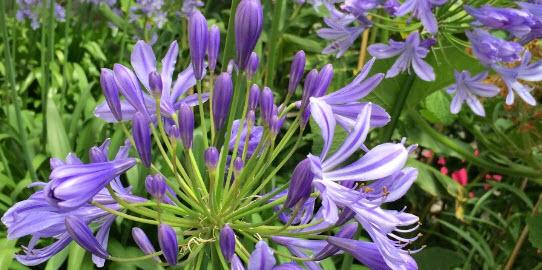 After a long and dull winter, it's time to welcome the warmer air and the first official month of spring and what better way to do this than with vibrant, bright flowers to lift your moods.
We've created the ultimate guide to spring flowers, helping you know what to ask your florist for, whether you're choosing your Mother's Day gift or injecting sunshine and colour to your own home, we've got you covered!
AGAPANTHUS
When the first rays of spring sunshine have arrived, agapanthus joins the other spring flowers in a fantastic spring bouquet. The agapanthus is known to be the 'flower of love' andits flowers appear to explode like fireworks – a true and cheerful celebration of spring.
DAFFODIL
One of the most iconic of spring flowers - if you can see these beauties growing then you know spring is officially underway, announcing the season with its bright yellow trumpets. There's more to these traditional blooms than you might think though, legend has it when Narkissos, a hot young man found in Greek mythology, was murdered the first daffodil emerged, growing on the spot of his demise and taking on his incredible beauty.
RANUNCULUS
Spring deserves to be celebrated, so why not go for a bold look with the ranunculus, or buttercup as it's more commonly known. The vibrant flowers appear at the start of spring and range in colour from soft pinks, white and yellow to fiery oranges and reds. Combine these fantastically colourful flowers and why not create a handmade floral comb so you're ready to welcome in spring! Or, if you're looking for a new way to brighten up your home the ranunculus is the key flower in a DIY floral chandelier? The choice is yours.                   
SOLIDAGO
Solidago, meaning Goldernrod, is a bright yellow flower full of energy that makes a statement in any spring bouquet. The golden colours of the solidago reflect rays of sunshine and they are sure to lift and brighten any space. Use some solidagos as the focus of a dreamcatcher to let them lift your spirits while you sleep. 
Copyright Cosmoflora 2018